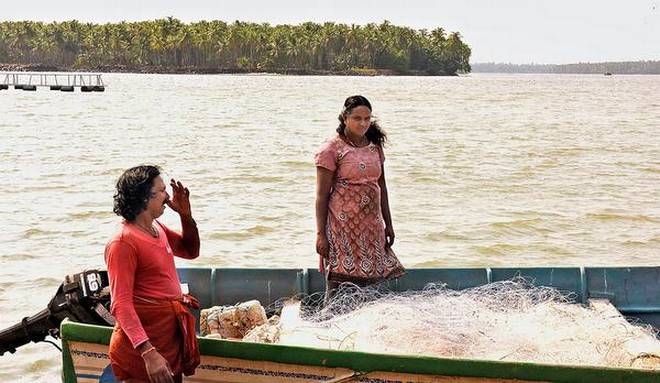 Rekha is the first woman in the country who goes fishing in the sea by boat, according to CMFRI
The Central Marine Fisheries Research Institute (CMFRI) will felicitate K.V. Karthikeyan and his wife K.C. Rekha who have been venturing into the sea for fishing using gill nets and hooks since the past 13 years.
Sudarshan Bhagat, Union Minister of State for Agriculture and Farmers' Welfare, will present a memento to the couple at a fishermen meet to be held at CMFRI here on Friday. He will hand over fish seeds to the couple for launching sea cage farming. The programme is part of the ongoing platinum jubilee celebrations of the institution.
An official release here said that the couple hails from Kundazhiyoor near Chettuva in Thrissur district. It claimed that Ms. Rekha is the first woman in the country who goes fishing in the sea by boat. Although there are women engaged in fishing in backwaters, no record about women's presence in fishing along the Indian coasts is available so far, said A. Gopalakrishnan, Director of CMFRI. He said that the institution wanted to felicitate the courage shown by the couple.
Financial support
"There are some superstitious beliefs in the society that women are not supposed to go to the sea for fishing. But, here a lady has courageously broken all these unreasonable customs and conventions and made a living out of fishing," said Mr. Gopalakrishnan. The CMFRI has offered them financial and technical support to launch cage farming in the sea.
The Minister will address the representatives of fishermen and fish farmers. An interactive session will also be held on the occasion to solve the issues being faced by stakeholders.
source: http://www.thehindu.com / The Hindu / Home> News> Cities> Kochi / by  Special Correspondent / Kochi – May 04th, 2017