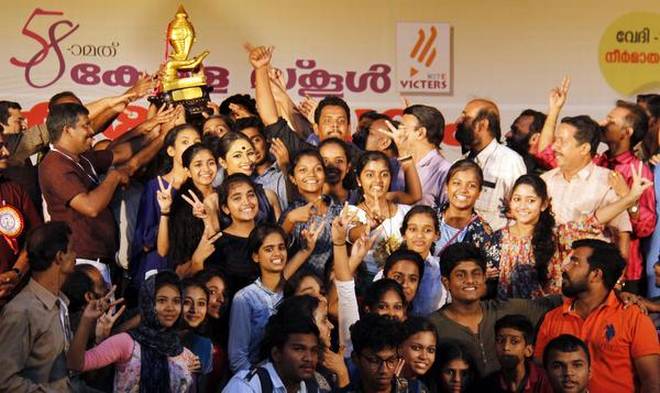 Pips Palakkad by 2 points to emerge champion for the 12th consecutive year, Malappuram comes third
Kozhikode completed a golden dozen on Sunday. The district lifted its 12th successive Gold Cup at the State School Arts Festival. No mean feat that.
It is truly remarkable that the young artistes from Kozhikode have never let their grip go of the cup that is given to the district scoring the highest number of points at the State festival after they won it at Kannur in 2007. But, Palakkad gave it a very stiff fight here before settling for the runner-up spot.
Kozhikode finished with 895 points, just two more than Palakkad. Malappuram was third with 875, while host Thrissur took the fourth place with 865.
Top school
Palakkad, however, had the consolation that a school from the district, BSS Gurkukulam, Alathur, emerged as the best both in the Higher Secondary and High School categories, overcoming strong challenges from the likes of Silver Hills HSS, Kozhikode, St. Teresa's, Kannur, and MKNMHS, Kumaramangalam (Idukki).
In the Sanskrit Festival too, Kozhikode emerged champion, with 95 points. Kannur and Palakkad, with 91 points each, finished second and third respectively.
In the Arabic Festival, Malappuram finished on top with 95 points.
Kasaragod and Thrissur, with 93 points apiece, were placed second and third respectively.
The prizes were distributed at the main venue of Thekkinkadu Maidan in front of a packed house. Speaking at the function, Education Minister C. Ravindranath said the State School Arts Festival should evolve into a cultural festival.
Revised manual
"This edition of the festival was held with a revised manual," he said.
"The process of revision will continue for the next three years. We welcome suggestions from the public about the changes made in the festival, such as the discontinuation of giving the prizes to the top three," he said.
Agriculture Minister V.S. Sunil Kumar, actor and MP Innocent were among those who attended.
Alappuzha next host
The next edition of the festival will be held at Alappuzha. "It is the home district of our Opposition Leader and it has enough venues to conduct the festival," Mr. Ravindranath said.
source: http://www.thehindu.com / The Hindu / Home> News> States> Kerala / by P.K. Ajith Kumar – Thrissur / January 10th, 2018