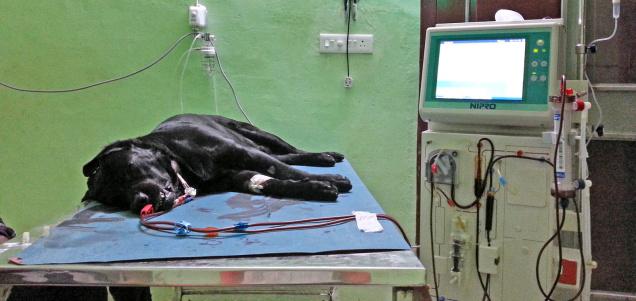 Jack, the Labrador, is the first dialysis patient in a government vet hospital in the State.
Jack, a seven-year-old ebony Labrador, has become the first canine patient to undergo dialysis at a government veterinary hospital in the State. The dog, diagnosed with acute kidney failure, underwent treatment on Thursday for about six hours.
Veterinary surgeon B. Aravind, who led the treatment, said the dog would have to be on treatment for two weeks. The owner, Dilip of Mundakkal in the city, took Jack to the District Veterinary Centre (DVC) after noticing that the animal was constantly vomiting and was very lethargic.
Dr. Aravind, who found that Jack was not responding to medicines, subjected the dog to a thorough check-up and diagnosed it with acute renal failure, probably caused by ingestion. The dialysis was carried out with machines installed by the district panchayat at the DVC.
The fee for the treatment on Thursday was Rs.5,000. On subsequent days, the fee will be less. The Kollam DVC is attached with a superspecialty veterinary centre constructed with funds provided by the panchayat. Dr. Aravind said that another canine patient bitten by a snake will also be given treatment at the DVC on Friday.
source: http://www.thehindu.com / The Hindu / Home> News> National / by Ignatius Pereira / Kollam – October 30th, 2015