Each member in this Kudumbasree team has four cows and the unit sells 300 bottles of milk daily — in an autorickshaw.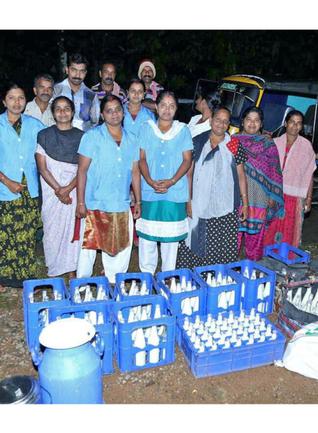 They were just homemakers and their husbands were small-scale farmers. But now their lives have changed. Each member of the 11-member team of the Thanima Kudumbasree unit at Kulamavu is now making a monthly income of Rs.20,000 by selling milk.
The Ksheera Sagaram Scheme of the Kudumbasree district mission supported by the Agriculture Technology Management Agency (ATMA) gave them an opportunity to buy cows and locally distribute milk on the model of the Nature Fresh project implemented at Edavetti grama panchayat in the district.
Thanima members locally distribute the milk in bottles and the remaining milk is given to the dairy cooperative society at Arakulam.
"Each woman member has four cows and it is possible for the consumers to identify the milk supplied by each member through the number affixed to the bottles," said Ancy Vinod, a member.
Fresh produce
They carry the milk in an autorickshaw to homes, tea shops, and hotels. "Fresh milk is locally made available in the morning and afternoon," she said.
The self-help group president Thressiamma said they sell 300 bottles of milk every day at Kulamavu. The aim is to make available quality and fresh milk on the doorsteps, she said adding that they sell milk in 650- millilitre bottles at Rs.31 and 375-millilitre bottles at Rs.17.
They have no plans to increase the price. Instead, they want to make more value-added products available in the market. The team is also planning to buy more cows.
Expert advice
They follow scientific methods in growing the cows and took the advice of experts for building cow sheds.
The members were trained under the experts in the Government Veterinary College, Mannuthy.
The Agriculture Department also takes them for study tours to learn about model dairy farms outside the district.
source: http://www.thehindu.com / The Hindu / Home> National> Kerala / by Giji K. Raman / Idukki – February 28th, 2016