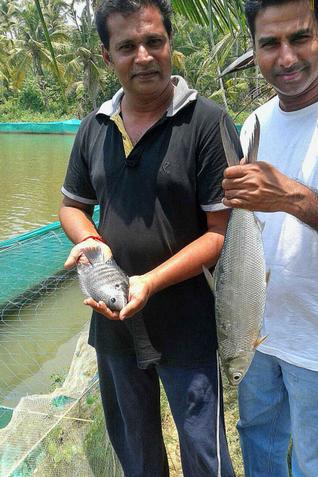 Story of a national award-winning farmer's success and travails
Lying wakeful at night is one of the fallouts of five years of farming fish, says Sunil Kumar, 43.
The national award-winning farmer owns scores of netted enclosures along the bank of the expansive backwater lagoon at Thannimoodu in suburban Thiruvananthapuram. Year-round, they abound with pearl spot, a pricey fish widely considered a delicacy. It sells for Rs.500 and above a kg.
The bounty attracts raiders at night. Certain lawlessness exists along Kerala's maze of inland waterways and lagoons and Thannimoodu is no exception.
Marine patrols are unheard of and farmers like Mr. Kumar are left to fend for themselves. They maintain solitary night vigils to protect their farms from raiding boatmen. Local goons who demand protection money are also a thorny problem.
Mr. Kumar's quest for self-employment had prompted the matriculate to attempt fish farming in 2010. His first shot at shrimp cultivation failed. But with pearl spot, Mr. Kumar struck gold.
Peak daily sales often touched Rs.15,000. He was able to keep his family of the breadline.
Traditional knowledge
Most of Mr. Kumar's farming knowledge comes from anglers and traditional fishermen. They helped him devise the porous netted enclosures that allow tidal flushing, but keep natural predators out.
Tortoises, eels, catfish, rat snakes prey on pearl spot fingerlings. Top nets protect the corralled fish from predatory birds.
Mr. Kumar regularly traverses the lagoon with experienced fishermen to net healthy pearl spot pairs for controlled breeding.
"The male burrows into the lagoon bed to make holes for the female to deposit her eggs while she hovers around. They often breed close to the shore," he says. Adult pearl spots are paired off in hatcheries, which simulate the lagoon environment.
Mr. Sunil is thankful to the Kerala Fisheries Department for its support. However, like other farmers, he faces the issue of land availability. The lease of his three acre farm is set to expire soon and he is scouting for a new place to relocate it.
source: http://www.thehindu.com / The Hindu / Home> News> Cities> Thiruvananthapuram / G. Anand / Thiruvananthapuram – May 30th, 2016