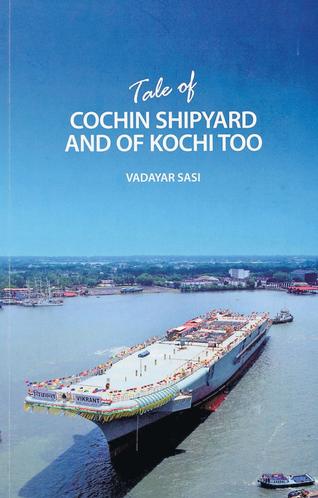 'Tale of Cochin Shipyard and of Kochi Too' is a tiny tome that traces the origin and growth of India's second shipbuilding yard in Kochi.
The English rendering of a book titled, 'Cochin Shipyardinte Katha, Kochiyudeyum' authored by Vadayar Sasi a.k.a A.M. Sasidharan, a former employee of the most successful public sector shipbuilding facility in India, the volume is an authentic account on the shipyard related in the form of emails exchanged between an engineering student to her younger cousin and is therefore simple, straightforward and readable.
The translation, however, leaves a lot to be desired. An upcoming creative writer in Malayalam, Mr. Sasi maintained notes on various developments pertaining to the yard during his 36-year-old stint with it, which helped him notch up a comprehensive account of its journey to excellence.
Mock ship launch
It has many interesting and less-known anecdotes, such as the one on the unique mock ship launch protest taken out by those evicted from their land to make way for the yard.
As the yard failed to take shape even years after it received the government nod, the evictees made a ship replica using bamboo and paper, named it 'SS Cochin Rani' and paraded it across the city before launching it from a site north of the Venduruthy Bridge.
Quirkier anecdotes like 'hull shop', a word unfamiliar to many then, being mistaken for 'kallushop' (toddy shop) by young engineering students add to the colour of the book, which contains rare black and white photographs from the archives.
'Attractive'
The volume has its forward written by literary critic M.K. Sanoo, who calls it 'attractive' as a 'storehouse of information'. Besides dwelling on the history of the yard, the author also takes significant detours to talk about the people who contributed to the growth of the city and the yard.
Published by the yard itself, the volume is priced at Rs. 150.
source: http://www.thehindu.com / The Hindu / Home> News> Cities> Kochi / by  Special Correspondent / Kochi – May 31st, 2014