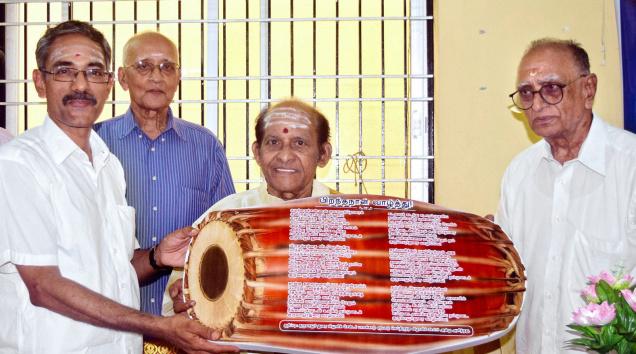 It was a journey down memory lane for Mridangam exponent Guruvayur Dorai on Sunday when his disciples and fans converged at Kalpathy near here to celebrate his 80th birth anniversary. It also marked the opening of the Guruvayur Dorai Music Centre.
"Music is not just my passion. It is my life," said the eminent musician in his acceptance speech. He also recalled his initial training under Palghat Subba Iyer and E.P. Narayana Pisharody and later under the legendary master Palani Subramaniam Pillai.
"I had initiated my concert performances at the age of eight. It was a long road since then. I am happy that my efforts in the field of mridangam and music have helped propagate the art around the globe," said this ;exponent of the Pudukottai style of mridangam. Dorai aka Vaidynathan was born in Guruvayur to G.S. Krishna Iyer and Meenakshi. His sister Guruvayur Ponnammal was a highly reputed singer. His brother, G.K. Rajamani, is a violinist of repute.
Dorai also recalled an evening in 1949 when he went to Chennai for the first time to perform in a concert with Carnatic vocalist Chembai Vaidyanatha Bhagavathar.
The music centre was inaugurated by A R Venkateswaran.
source: http://www.thehindu.com / The Hindu / Home> News> National> Kerala / by Special Correspondent / Palakkad – June 29th, 2015