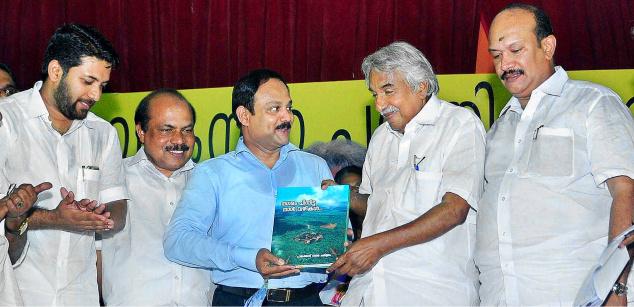 A collection of memoirs detailing the evolving of Palakkad town and its surroundings in the last 150 years was released by Chief Minister Oommen Chandy at a function held here on Monday evening.
The book titled 'Nagaram Pinnitta Naalvazhikal' was edited by writer and activist Boban Mattumantha.
Lauding the initiative, Mr. Chandy said the book would be a reference volume for those interested in the culture and history of Palakkad. The book contains 150 articles in 13 sections. It has detailed narrations on the first tarred road in the town, first electrification drive, establishment of district hospital, operation of the first locomotive, the first college, first police station and jail.
It comprises articles by luminaries including M. T. Vasudevan Nair, O. V. Vijayan, K. G. Subrahmanyam, T. N. Seshan, P. T. Usha, Syamaprasad, Cartoonist Ravi Shankar, M.G.S. Narayanan, Raghava Warrier, Rajan Gurukkal and T. D. Ramakrishnan.
source: http://www.thehindu.com / The Hindu / Home> National> Kerala / by Special Correspondent / Palakkad – September 29th, 2015