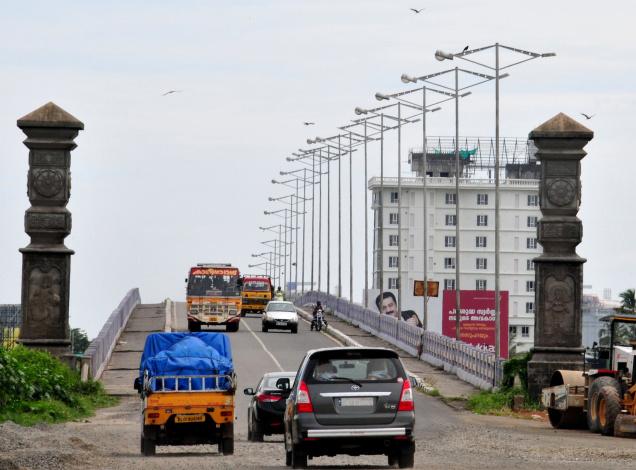 The uncertainty over time-bound completion of the coastal road connecting the Goshree islands to Kochi is finally clearing up with the Ernakulam district administration set to begin direct purchase of land from owners in July.
According to District Collector M.G. Rajamanickam, the proposal for direct land acquisition, mooted along the lines of the Kochi metro model will be set rolling on receipt of a government order, expected by the second week of next month. "We have already started the background works in the form of negotiations with the land owners and will complete the acquisition process within two months of its initiation," he said.
The authorities are now working on the modalities of the acquisition process including the area required, its cost, etc., and are planning to hold a combined meeting of landowners as well as revenue officials before starting the process.
The 29th general council of Goshree Islands Development Authority (GIDA), which met here on May 31with Chief Minister Oommen Chandy as chairman, entrusted the Authority to directly acquire land from private owners for speedier implementation of projects and also decided to form a special committee under the District Collector to acquire land. Following this, an official team led by the District Collector inspected the islands last week and interacted with the local residents.
Meanwhile, the GIDA has revised the estimate for the Moolampilly-Pizhala bridge from Rs. 40 crore to about Rs. 82 crore for changing its alignment so as to avoid large swathes of the eco-sensitive wetland system in the area.
The 4.5 km road, having a width of 22 meters, will provide an alternative link from the city to Paravur while also paving the way for the development of the Goshree islands. Kadamakudy panchayat will benefit the most from the bridges since it would get a link with the Vallarpadam container terminal road. The Rs.160 crore project, planned to provide an alternative link from the city to Paravur, also entails construction of three major bridges and one small bridge.
The Delhi Metro Rail Corporation (DMRC) had earlier evinced interest in taking up the construction of the four bridges, but it later backed out citing difficulties in carrying out outside works. Following this, the construction work was awarded to the Kerala State Construction Corporation (KSCC).
source:  http://www.thehindu.com / The Hindu / Home> News> Cities> Kochi / by Hiran Unnikrishnan / Kochi – June 30th, 2014