With Onam just round the corner, Kochi Times takes you through a gastronomic journey…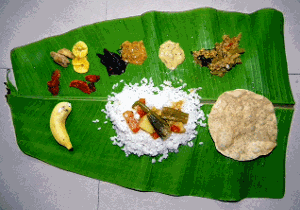 The green plantain leaves, pickles, chips and goblets of veggie delights that are spread on it, the tempting aroma that wafts all around tempting the senses… say Onasadya and the image conjured up in Malayali minds waters the mouths and brightens hearts in no time. Delectable dishes that assure a gastronomical joyride are the stars of Thiruvonam, but how well do we know them to give them a befitting welcome?
It's well known that the sattva guna vegetarian Onasadya is supposed to be served in a traditionally-followed healthy order that helps digestion, but not many today are aware of it. To top it all, there are regional differences in the dishes served and customs followed as well. This Onam, Kochi Times beckons some renowned regional food experts to help us feast healthy and hearty.
Sadya's simple past
Renowned culinary expert Pazhayidom Mohanan Namboothiri, who anchors many important feasts of the State including the State School Youth festival, says that in the 50s and 60s, Onasadya was much simpler than its modern day versions! "It was called naalu curry and sadya, and had just eight to nine items in total, including kaalan, erisseri, olan, thoran or mezhuku piratti, achar, pappadam, two or three upperis, moru and payasam. Later, avial came in, followed by sambar from Tamil Nadu and other items, totalling up to around 16 dishes from salt to payasam. What we see today are the improvised forms of this pattern," he says.
Varied regional tastes
All that said, Malayalis across the State have their own regional favourites and star dishes. For instance, it is a well-known fact that non-vegetarian dishes are widely served in the northern parts of Kerala in Onasadya. There are similar changes in other items and customs too.
Pazhayidom Namboothiri says, "In southern Kerala, parippu (dal) is quite important, but not in northern Kerala. In the south, parippu and sambar, rasam, avial, thoran, pachadi, one koottukari, two upperi, pappadam, pazham, one uppilittathu and payasam would mean a good sadya. In the north, however kurukku kaalan is used instead of pulisseri, and it is served at the tip of the leaf. Their items are less in numbers as well, and will include sambar, rasam, moru, avial, koottukari, pachadi, two uppilittathu, thoran, chips, pappadam and, pazham."
Serving it right
The tapering end of the leaf should point to the left of the seated guest and rice should be served on the lower half of the leaf, experts say. "From the bottom part of the leaf, items should be served clockwise", says Pazhayidom Namboothiri, adding, "Pickles should be placed in the bottom portion. Lemon, mango, puli inchi, kichdi, uppu will be served at the bottom left. On the other side you can keep chips and thoran, followed by pachadi, koottukari, olan and avial." There are regional differences in serving as well. In northern Kerala, katti parippu is also served on one corner of the leaf. They would serve it in the order of rice, sambar, rasam, payasam, and rice and moru again, experts say. In southern Kerala, sambar is given after nei parippu, followed by rasam, payasam, rice, pulissery and moru.
"There is no particular order followed in central Kerala. Rice is eaten with sambar, parippu or rasam and then they move to payasam," says Namboothiri. Desserts are served mid-way through the meal and pazham is served with payasams. In some places, rice is served once more with rasam after payasam.
Generally, the food is first served on the extreme tip of each banana leaf and usually food is served from left to right, starting with salt, pickles, thoran, avial, olan, kichadi, pachadi and erissery. From left to right in the bottom, small banana, chips, pappadam are served and into the rice ghee and parippu curry are added. Once parippu is finished, sambar, rasam, kalan, pradhaman are served and at last, sambar or moru.
The meal can also be followed by vettila murukkan or betel leaf chewing, which will ease digestion and cleanse palate as well. Traditionally, spices and vegetables like onion and garlic are not used in the preparation of sadya.
Payasam
Sadya expert Manoj Balusseri lists out the traditionally important payasams as pazham, palada, pal payasam, parippu pradhaman, kadala parippu pradhaman and the semiya payasam. "Ada pradhaman is made in two different ways in the south," he adds.
Pazha pradhaman and palada pradhaman are the important payasams in northern Kerala, while ada, pal payasam and gothambu palada are the favourites in central Kerala. The southern part of the State uses mixed payasams of three or four items. The payasams, experts say, are to be consumed starting with the lightest and moving on to the darker ones, meaning those made with jaggery.
Customs long forgotten
How many of us know that after eating an Onasadya, the leaf should be folded towards the other side? Apparently, a sadya leaf is folded towards you only after rituals like adiyanthiram (cremation ceremony). While the exact reason is not known, Pazhayidom Namboothiri says, "There is the possibility of food wastage in an Onasadya and thus, folding it against you ensures no waste falls on to your lap. Whereas, items and wastage can be less for rituals like adiyanthiram."
STARS OF THE FEAST
An ideal traditional sadya should have delicacies such as pazham nurukku, kaya varuthathu, sarkkara upperi, koottu kari, kalan, olan, avial, thoran, naranga, puliyinchi, sambar, rasam, prathaman, thairu, pappadam and payasam. The rice used for sadya can vary from north to south of Kerala. For example, the matta rice is used in Palakkad and white rice is used in the Thrissur region.
— Santhosh Ambiswamy, renowned food expert
source: http://www.timesofindia.indiatimes.com / The Times of India / News Home> City> Kochi / by Deepa Sonam, TNN / August 23rd, 2015