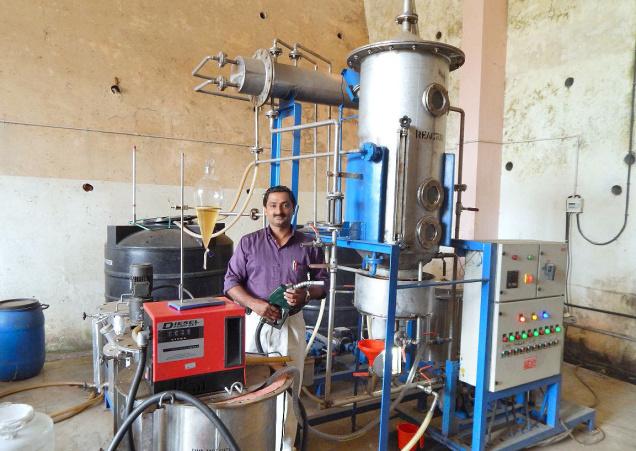 A team of researchers of KVASU extract biodiesel from the wastes of slaughtered broiler chicken
Horsepower will stay, but the humble chicken may actually power your car, if a technology model developed at the Kerala Veterinary and Animal Sciences University (KVASU) in Wayanad gets scaled up to viable commercial production.
For the last one year, a team of researchers led by John Abraham of the university's School of Bioenergy and Farm Waste Management (SBFWM) have been quietly extracting biodiesel from the wastes of slaughtered broiler chicken, in a small Rs.12-lakh prototype plant.
Patent
For several months now, they have been field-testing this chicken-based fuel in their university's old multi-utility vehicle (MUV), which goes all over the hill district. The team has applied for a patent on it on behalf of the KVASU, which is pending. The KVASU intends to play the role of technology provider.
The researchers have also run their biodiesel through tests at the Bharat Petroleum Corporation Limited (BPCL)'s quality control laboratory at its Kochi refinery. They said the tests confirmed that the fuel conformed to exacting BIS standards. Besides, the chicken-sourced biodiesel was also found to have a commendably higher cetane value of 72, as compared to 64 of petro-diesel, which means better efficiency, Dr. John added. It is relatively cheaper too. Even without economies of scale, the small pilot plant incurs a production cost of just around Rs.32 per litre for this fuel (while petro diesel costs Rs.55 or more). At the trial stage, it is being used at 50:50 ratio with petro diesel in normal, unmodified, diesel engines. But it could be used as the sole fuel with some engine modifications, Dr. John said.
With word trickling out, several innovative entrepreneurs, including registered slaughter waste collectors in the neighbouring Kozhikode Corporation, have approached the team for tapping the idea's commercial potential. The team has already provided a project report for a plant for a consortium, which will be capable of processing up to 40 tonnes of slaughter waste and generating about 1,000 litres of chicken fuel a day. This project is to come up with the collaboration of the Kozhikode Corporation and the District Suchitwa Mission there.
Dr. John, whose doctoral thesis at the Tamil Nadu Veterinary and Animal Sciences University in 2012 was on alternate fuels, said chicken-powered biodiesel had great potential. "In Kerala alone, about 5.3 lakh chicken are slaughtered daily. This means some 350 tonnes of slaughter waste every day, which pose a catastrophic threat to the environment."
"If this waste is cooked at very high temperatures, 10 per cent of the volume turns extractable oil, another 30 per cent gets converted to animal and pet feed ingredients with 62 per cent protein content that costs a mere Rs.20 per kg to produce," he said. Almost 96 per cent of this oil could be converted into biodiesel, while a small portion turned into glycerine, which could be used for making soaps and cosmetics, he added. About 10 kilograms of chicken wastes yield one litre of oil, on an average.
But why only chicken waste and not mutton or beef slaughter waste, when these have an equally huge availability in the State? "All ruminants have bio-hydrogenation pathways which saturate fats. Saturated fats are solid at room temperature. But mono-gastric animals like chicken lack this pathway. Hence, more unsaturated fatty acids are available in their fats, which turn to oil at room temperature. Biodiesel can only be made from such oils," Dr. John said.
source: http://www.thehindu.com / The Hindu / Home> National> Kerala / by E.M. Manoj / Kalpetta – May 29th, 2016