Local libraries, reading rooms in Taliparamba constituency to be linked to GCEK's virtual learning facility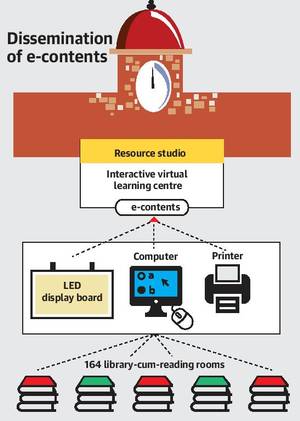 The interactive virtual learning facility of Government Engineering College, Kannur, (GCEK), at Dharmasala here will be linked to the local library-cum-reading rooms in the Taliparamba Assembly constituency for the dissemination of e-contents of expertise useful for the public.
The plan, outlined as part of the entrepreneurship support initiative Samruddhi, launched in the constituency under the leadership of local MLA James Mathew, envisages provision of computers, LED display boards and printers to 164 library-cum-reading rooms in the constituency for linking them with the interactive virtual learning centre of the GCEK started under its Centre for Information, Communication and Educational Technology (CICET). Mr. Mathew had announced the other day that a workshop for five functionaries each of the libraries would be held at Taliparamba on October 20 to discuss activities to be carried out under the Samruddhi scheme using the libraries as centres.
"Once the libraries are connected to the interactive virtual learning facility of the college, the e-content stored in the college's server can be accessed by them," GCEK Principal C. Sreekumar said. Another feature is a programme being organised by one of the libraries can be streamed to rest of the others, he added.
The CICET includes a resource studio and a server that would used as a platform for interactive classroom programmes and contents involving the expertise of the colleges faculties in different disciplines.
The CICET was inaugurated by Chief Minister Pinarayi Vijayan last month. Under the Samruddhi scheme, this facility is being extended for the benefit of the public through libraries and schools. The e-contents will be created, stored and disseminated under the initiative.
As the Samruddhi scheme envisages dissemination of information on socially beneficial programmes of the government among their beneficiaries, including aspiring entrepreneurs, the facility would function as a common link between government departments and the public.
Mr. Mathew said the funds would be accessed if the clusters of entrepreneurs propose projects that cannot be established on their own. Water conservation, waste treatment and good agricultural practices are being given priority under the scheme, he said.
source: http://www.thehindu.com / The Hindu / Home> News> States> Kerala / by Mohamed Nazeer / Kannur – October 16th, 2017