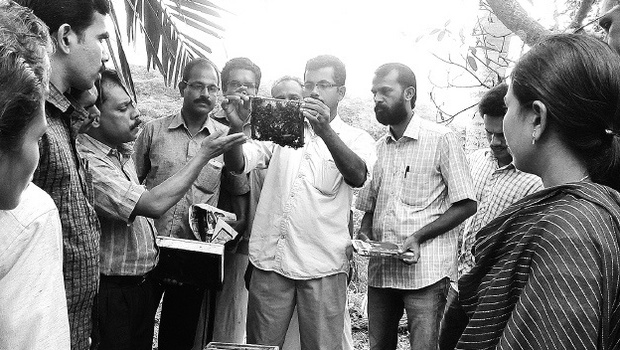 Kozhikode :
Beekeeping is a ludicrous business and a healthy profit can be gleaned if it is done after obtaining the proper training. A district level training programme on Beekeeping was organised at ICAR-Krishi Vigyan Kendra, Peruvannamuzhi.
Classes on different species of honeybees, their behaviour, bee colony maintenance, significance of beekeeping, pest and disease management in Apiary (a place where bees are kept; a collection of beehives), different by-products of beekeeping etc were covered during the three day programme. Practical session on Beekeeping was also organised at District Agricultural Farm, Koothali and KVK, Peruvannamuzhi.
The trainees will be issued certificates and they are also eligible for obtaining beehives and other accessories at 40 per cent subsidy by the Horticorp.
A total of 36 trainees including rural youth and farm women from Kunnummal, Balusserry, Naduvannur, Thodannur, Chelannur and Perambra blocks of the district participated while 27 participants completed the training course successfully.
The training programme was led by K K Aiswariya, subject matter specialist (Plant Protection) of KVK.
source: http://www.newindianexpress.com / The New Indian Express / Home> States> Kerala / by Express News Service / October 09th, 2015