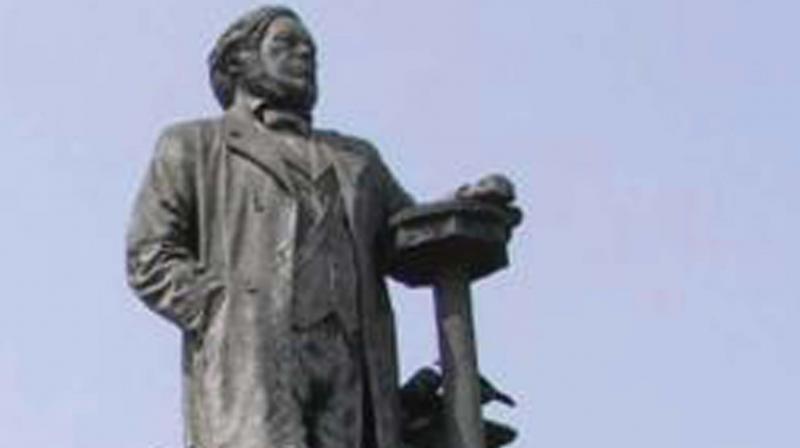 Thiruvananthapuram:
Some of the rare books in Malayalam language would have been lost if Herman Gundert, the German missionary, had not taken the trouble to transport them to his home town Calw. The documents preserved by Gundert, who was also a scholar credited with the first Malayalam-English dictionary, included nearly 80 manuscripts and 150 printed works. Some of the available palm leaf manuscripts run into 42,000 pages. These books have been archived in the Gundert archive of Tubingen University which has also taken steps to digitise the documents. The Thunchath Ezhuthachan Malayalam University, Tirur, established in 2012 to promote Malayalam language, has received access to the documents through an MoU signed with the Tubingen University.
Mr M. Sreenathan, professor of language at the university, told Deccan Chronicle that it all started with Dr Scaria Zacharia, a Malayalam professor who visited Germany in connection with the meeting of the World Malayali Council, visiting the archives of the university in 1986. He published books like Pazhassi Rekhakal, Payyanoor Pattu and Thalasserry Rekhakal from the university. Some of the other books that were discovered from Tubingen included Nalacharitham Manipravalam and Sheelavathy written by Mannan. The first version of the Mahabharatham Killipattu, Krishnagatha, Thulalkadha, Panchathantram and Ekadeshi were brought to the state from the archives. The copy of Meenakshi written by Chathu Nair and published in 1890 was also discovered from Tubingen, Mr Sreenathan said.
Another finding was Keralopakari, an illustrated weekly published in 1870. There has not been much reference about this weekly earlier. A copy of Krishi Pattu was also preserved at Tubingen. The specialty of the copy of Krishi Pattu, an agriculture verse popularly known as Krishi Geetha in the state, is that it was published from Kozhikode before the advent of Chandrakala in Malayalam. Another significant discovery was Kerala Natakam. This book republished by the university was released recently. Many people, including historian M.G.S. Narayanan, have said that they have seen the book. However, the book was not available anywhere in the state. It was also received from the archives of Gundert. Many literary historians, including Ulloor Parameswara Iyer, have mentioned about this work. There are differences among the historians about who wrote the book.
Some believed that this was written by Thunchath Ezhuthachan. However, Ezhuthachan had not written anything other than poetry. The book was published by Basel Mission. Ulloor had disagreed with the theory that it was written by Ezhuthachan. The book was in the handwriting of Gundert himself. The language of the book proved that it was not written by Ezhuthachan. However, it has many similarities with another work of the period named Keralolpathi. But there is one major change. This is in the chapter Kulakrama Vivaranam which in Keralolpathi was based on Sankaracharya's Kulakrama Vivaranam. However, the Kulakrama Vivaranam chapter in Kerala Nadakam dealing with the origin of caste was more in the nature of folklore, Mr Sreenathan said.
The documents in the collection of Gundert can be classified into three: printed books; books that had been transcript by Gundert himself or using the service of a scribe; and books in Thaliyola. Many books related to subjects like Manthravatham and on Christianity, including Puthiyaniyamathile Lekhanangal and Sathyaveda Ethihasam, are at the archives. The university is the only one in Europe that teaches Malayalam as an optional. It has also set up a Gundert chair. "I visit Tubingen as a faculty of the university and Mr Scaria Zacharia goes there as an outside academic. The Malayalam and Tubingen universities also have student exchange programmes," Mr Sreenathan said. He will visit Tubingen soon to identify the original version of the works of Ezhuthachan, including Adhyadhama Ramayanam. Mr Scaria Zacharia said that the access to Gundert archives had begun in 1986. Many books like Pazhassi Rekhakal, Payyanoor Pattu, Thacholli Pattu and Thalassery Rekhakal were published from the archives. However, it was only recently the efforts were noticed in the state, Mr Zacharia said.
Christian missionary turned linguist
Herman Gundert, who left Germany at the age of 23 for missionary work, had planned to go to Calcutta and gained working knowledge in Bengali, Hindustani and Telugu even while travelling by sea. However, he landed in Madras in 1836 instead of in Calcutta. Gundert learnt Tamil while working in Chittoor, Andhra, and Tirunelveli, Tamil Nadu. During his work in Mangalore, he had a chance trip to Thiruvananthapuram where he had an audience with Swathi Thirunal, the ruler of Travancore who himself was a scholar. Gundert was attracted to Malayalam and became a scholar in the language in a short span of time.
Born in 1814, Gundert is the grandfather of 20th century Nobel prize winning novelist Hermann Hesse. Gundert had studied theology and Sanskrit in Tübingen University before completing his doctorate in theology in 1835 and joining the Bassel Mission in which he worked in Thalassery from 1938. Apart from authoring the first Malayalam-English dictionary, he translated the New Testament into Malayalam. He left India in 1859 due to illness. Most of his Malayalam books, including his Malayalam-English dictionary and hymn book, were written when he was in the south western German town of Calw.
He worked primarily from Thalassery where he compiled a Malayalam grammar book, 'Malayalabhaasha Vyakaranam,' published in 1859. He lived at Illikkunnu near Thalassery for 20 years spreading the gospel among the natives and writing 13 books and a translation of the Old Testament from Hebrew and New Testament from Greek. He attempted a systematic grammar of the language based on non-Sanskrit-based approaches to Indic grammar as he considered Malayalam as a branch of Proto-Tamil-Malayalam, or Proto-Dravidian. It was Gundert who used punctuation marks like full stop, comma, colon and semicolon for the first time in Malayalam. In recognition of his contribution to Malayalam, a statue of Gundert has been erected at Thalassery.
source: http://www.deccanchronicle.com / Deccan Chronicle / Home> Nation, In other news / by Sabloo Thomas, Deccan Chronicle / July 05th, 2017