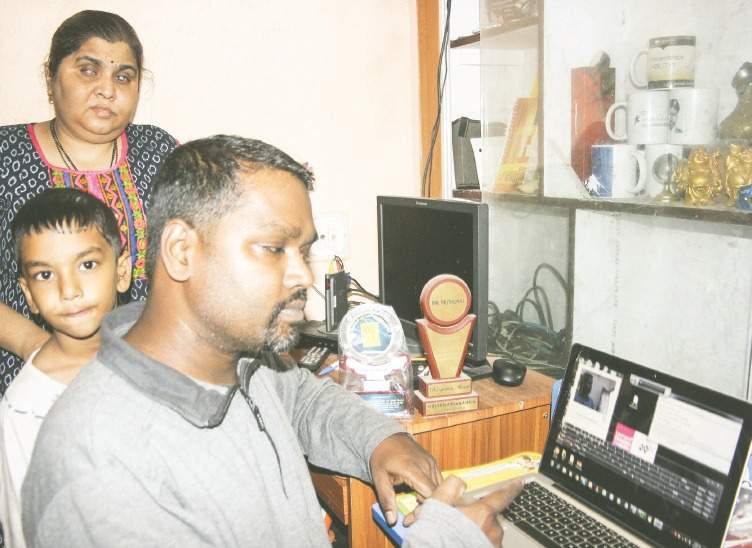 Thiruvananthapuram :
Growing up with two best friends — one who is visually challenged, Muthuraj D always knew that he would one day work for persons with disability (PwD). The 39-year-old Bengalurean was the eldest of the six children born to a BPL family in Kormangala. Working as a salesman during the day and attending classes in the evenings, he eventually had to drop out of the college. Today, he has developed and customised over eight technologies that help the disabled, some of which has been adapted by technology giants such as Bosch.
Two years ago Muthuraj collaborated with a technology called 'Kavi', developed by Mindtree, Chennai and IIT Madras, and used by people with severe disability. This can convert muscular movements into an input.
"Unlike the western countries, disability is seen as a problem in India. Government has a long way to go and officials are apprehensive about spending money on technologies to benefit the disabled," says Muthuraj adding that he renders solutions by coming up with affordable technologies.
With sky-high costs for propriety software, Muthuraj's cost-effective technologies are a boon for the disabled, as they're either free or priced lower than `5,000. Making use of free software such as Camera Mouse, which enables controlling the mouse pointer on the screen with the head movement, he devised a solution for people who cannot move their limbs. He trained non-English speaking students to use this.  He also made an alternative for the three-button foot pedals that are used in medical transcription to record, play, and rewind. Muthuraj customised a mouse and a keyboard to be used instead of the pedal. "With the available three buttons, we can come up with over 30 combinations that can be used for separate commands such as copy and paste," he explains.
source: http://www.newindianexpress.com / The New Indian Express / Home> Cities> Thiruvananthapuram / by Regina Gurung / Express News Service / October 19th, 2016