Kochi:
With its ancient kovilakams, small leafy shrines overlooking moss-ridden ponds and a musical heritage to match with, Tripunithura always had an immense potential for heritage tourism.
But it was Fort Kochi and Mattancherry that always found a place in the Ernakulam tourist itinerary and the royal town never got its due.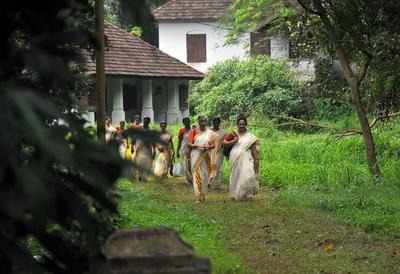 Now, this is set to change with two young professionals, Balagopal C K and Krishnan Varma of Cochin Royal Family, who have chalked out detailed heritage walks around the important sites of Tripunithura for the people to get acquainted with the historicity of the city.
"Despite being multicultural, the focus is only on the Colonial history of Tripunithura with regard to heritage cultural and heritage tourism. Due to this lack of attention and rampant construction and expansion in and around the area, the region is losing its sheen. The heritage walk is an attempt to create awareness about the city and its history to the locals," said Balagopal, an IT professional and organizer of the heritage walk. He plans to revive the evanescing grandeur of the regal city of Tripunithura.
The pilot royal heritage walk will be held on November 11 and 12 in two sessions – one each in the morning and evening. Later, the walk will be held during the Vrischikolsavam at Tripunithura temple which spans over eight days from November 18 to 25.
With Balagopal is his cousin Krishnan, an architect who had documented the heritage of Tripunithura and held an exhibition of the same in 2014, in an endeavour to bring the city back to public eye.
"The walk will also be advantageous for tourists with a taste for historical structures as a couple of buildings which are kept locked throughout the year, like the Palace Girls School made exclusively for the princesses and Ammathampuran Kovilakam which has documented evidence of Sakthan Thampuran himself living there, will be opened for them during the course of the walk," Krishnan said.
He added that lack of knowledge about such stories behind each structure is leading to the destruction of the centuries old buildings, which later gets replaced by concrete jungles.
"During the 90-minute walk, anecdotes and histories of the Cochin Royal family and the structures that are associated with them will be narrated for giving them an idea about the past of the royal family and the milieu. The script has been approved by the eldest generation of the royal family to ensure authenticity of the same," Krishnan said.
source: http://www.timesofindia.indiatimes.com / The Times of India / News> City News> Kochi News / by Afrah Ali / TNN / November 09th, 2017