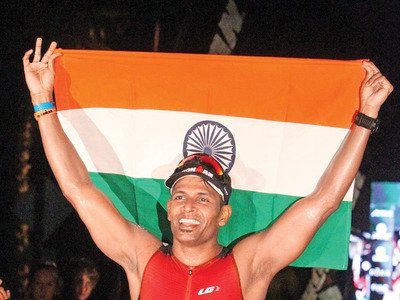 With half and full marathons becoming commonplace, Kerala now witnesses endurance sports events every other weekend.
Joby Paul, a 35-year-old IT entrepreneur from Kochi, shows what the new breed of runners and fitness enthusiasts might be aiming at next. Joby is just back after completing the 'Ironman' triathlon — one of the toughest sports events in the world, in which Malayali names, especially of non-NRKs, have hardly figured. A 'runversation' with Joby gives a glimpse into how he swam, cycled and ran towards the Ironman title!
"A couple of Malayalis have done this triathlon before, but they were not based in Kerala. I had spoken to a few of them for training tips," says Joby, who came into endurance sports as a runner, only in 2015. "I was always a fitness freak, enjoyed watching sports and have been way too competitive. I did my first half marathon in November, 2015 in Kochi," he says. Full marathons followed and slowly, endurance sports became his passion. "In the past two years, I did 20-odd half marathons and five fulls, and race by race, I could see an improvement in my timing. My first marathon took 4.45 hours and my best one is 3.43, in a span of two and a half years," the sportsman recalls.
Joby started cycling and swimming to reduce running injuries and for cross training. "Meanwhile, the thought of a triathlon struck me as it's the event in which you have to do swimming, cycling and running, without a break." He also felt the need to do something new and challenging, which demands discipline and dedication. "When I found that Ironman is one of the most challenging endurance events, I decided to try being one," Joby says.
His running buddies also encouraged him and Joby registered for a half Ironman event in Bahrain, in December, last year.
"It went well. In the meantime, I also did five full marathons (42.2 km) in different cities in India including Bangalore, Hyderabad, Mumbai and Delhi." He also bagged a medal for completing the 5 km sea swimming in Goa swimmathon in April 2017. "That was a big confidence booster for the full Ironman triathlon and so, I registered for the Florida Ironman event," he says.
However, the path towards being an Ironman was hardly easy. "It was important that I balance the three disciplines with a well-structured workout, six days a week.
I had to wake up at 4 am on most days, and sometimes, even at 3.30 am for long workouts. There were a couple of weekends where I was out for more than seven hours, sometimes, all by myself. This was definitely hard — physically and mentally. Training for this long is, quite frankly, boring and draining. With all of these, there was no proper work-life balance either," says Joby.
Added to that was the extreme diet control. However, self-motivation was the key, he says. "On many of the days it was very hard for me to wake up and train. But the finish line thoughts would pull me out of bed," he says. In September, he participated in Thonnur Triathlon in Mysore, which was a half iron distance triathlon and got a podium finish.
But all the training and events helped him get a proper heads-up for the Florida Ironman. "Still, it was no cakewalk. I had a taxing 15 kilometres during the 42.2 km marathon. There was also extreme mental pressure thinking of the length and on many occasion you feel like quitting. But I was sure that somehow I would finish."
Right now, everything, from the hard training to packing the bags for the event have turned golden memories for him. But the most precious moment was the one where he crossed the finish line – "I crossed the line with an Indian flag, amid the cheering and the announcement, 'Joby Paul, you are an Ironman!" that was the best!
So, what next? "I want to do more events to secure an entry to the Ironman world championship held in Hawaii. So, I am now planning my next race. I also have a couple of marathons and swimmathons queued up," he says.
Joby hails from Onakkoor, a village near Piravom. His wife Sweety is an IT professional and the couple has a daughter and a son.
source: http://www.timesofindia.indiatimes.com / The Times of India / News> City News> Kochi News / by Deepa Soman / TNN / November 10th, 2017