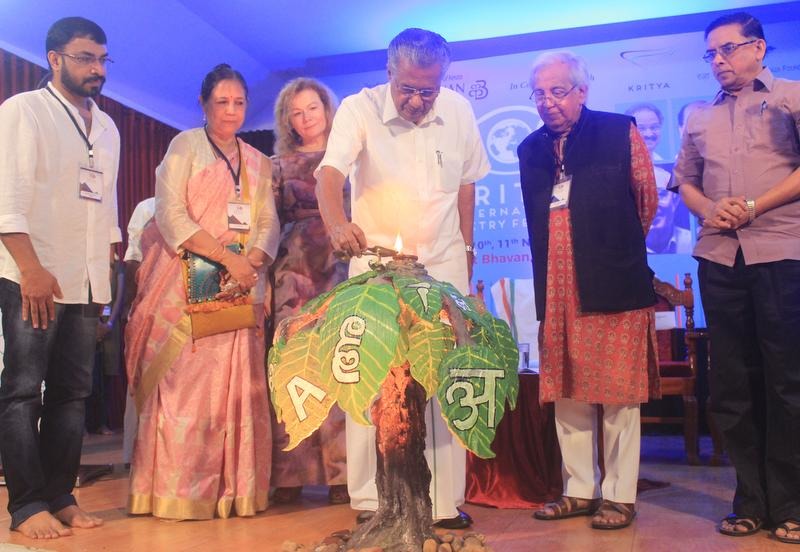 Thiruvananthapuram:
Kerala stands out from other states in the country for its tradition, said poet and critic Ashok Vajpeyi. He was delivering the presidential address at the Kritya International Poetry Festival at Bharat Bhavan on Thursday.
"Kerala organizes international events like Biennale and short film and documentary festivals and here tradition, orthodoxy, innovation and boldness co-exist. It is important that the state maintains this tradition at a time when voices of dissent are being supressed," said Vajpeyi, managing trustee, Raza Foundation.
Organized in association with Raza Foundation, New Delhi, the three-day festival was inaugurated by the CM. The eleventh edition of the festival pays tribute to late poet O N V Kurup.
Pinarayi Vijayan said that poetry was a torch during the dark ages. "Writers fall victim to religious fundamentalism even in this millennia. Secular values, scientific temper and rational thinking are threatened by communal forces and fascists. The attempt is to stifle dissenting voices, but we should reaffirm that we stand by secular values till our last breath. Progressive writers, poets and dramatists became the torch bearers of the great social and cultural renaissance of Kerala," said Vijayan.
The function was attended by Turkish poet Ataol Behramoglu, Estonian poet Doris Kareva, managing director of Poetry International Rotterdam Bas Kwakman, poet Prabha Varma and member secretary of Bharat Bhavan Pramod Payyanur.
Poets from Estonia, Spain, France, Germany, Netherlands, Switzerland, Sweden, Mexico, Canada, Egypt, Mongolia, South Africa, Botswana, Belgium and Wales and Indian poets will recite their poems in the festival. The festival will conclude on November 11.
source: http://www.timesofindia.indiatimes.com / The Times of India / News> City News>  Thiruvananthapuram News / TNN / November 10th, 2017