Thiruvananthapuram:
The year-long birth centenary celebrations of renowned playwright and critic C J Thomas had an apt beginning in the capital city on Wednesday, with the city-based theatre group Natyagruham staging CJ's masterpiece 'Aa manushyan nee thanne' (You are that man).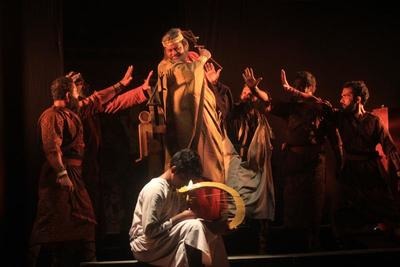 The staging of CJ's drama written in 1955 and depicting the sinful love between Biblical King David and Bathsheba, at the VJT Hall, also marked the 36th anniversary of city-based theatre group – 'Natyagruham' – which has promised a series of events for another year to celebrate CJ's birth centenary.
Directed by S Sajanachandran and with Pradeep Ayiroopara as the art director, this most popular drama by CJ, which broke all conventional dramaturgy, was staged before an enlightened audience comprising both youngsters and those from older generations. Taking the theatre beyond realism, CJ had tried to satirize the vulgarity of human response to others' sufferings through this work.
Time calls for reviving the writers and artists of yesteryears for whom the art remained a life-long passion, said Malayalam writer George Onakkoor, who inaugurated the launching event. "CJ was a miracle, both as a human being and as a playwright. He enriched the language, the society and culture during the short span of his life (CJ had died in 1960 at the age of 42)," said Onakkoor, who had also penned a biography on CJ – 'Manalkaattinte Sabdam' (The voice of sandstorm).
Besides elaborating on other works of CJ including 'Avan veendum varunnu' (1949) and '1128-il crime 27' (1954) Onakkoor also remembered CJ as a man inspired by revolutionary ideas and recalled his great contributions to modern literary movements in the state. "With a prophetic voice, he traversed this world ahead of his time," he said.
Natyagruham chairman Prof Aliyar, who presided over the ceremony, said CJ's works had passed the test of time. "The drama 'Aa manushyan nee thanne', had been staged only on a few occasions in Thiruvananthapuram or elsewhere in the state. However, this masterpiece is still relevant to be staged for the contemporary audience," he said. tnn
source: http://www.timesofindia.indiatimes.com / The Times of India / News> City News> Thiruvananthapuram News / TNN / November 16th, 2017