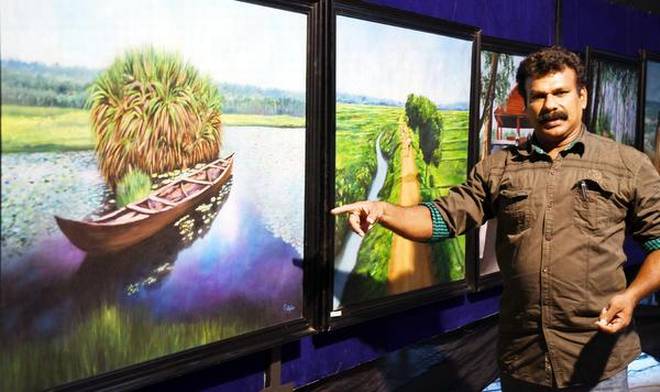 ISRO official T. C. Rajan has put up 30 sketches of iconic buildings of the city
Sketches of some of the most iconic structures in the city attest to the State capital's rich tradition and culture.
Artist T.C. Rajan has captured the beauty of many a landmark building in his sketches in Indian ink that are on display at an exhibition at Ganesam, Thycaud.
Padmanabhaswamy temple, Kuthiramalika, VJT hall, Napier Museum, Central station, Cliff House, LMS church, Kowdiar Palace…all of these come alive in Mr. Rajan's works.
A senior project assistant (Accounts) at the Indian Space Research Organisation, Mr. Rajan has put up 30 sketches and 18 paintings at the exhibition, his 50th.
It took him almost an year to get the works ready. "I wanted to capture the beauty of different parts of the city. There are many changes happening, and I wanted the future generation to know how the city was." he says.
Wherever he was denied access, he sketched using photographs. For instance, for the sketch of the Kowdiar Palace, he was presented with a photograph showing an overhead view of the palace, and drew it from that. For Kuthiramalika, he received special sanction and was able to sketch the structure.
Eighteen of his oil and acrylic works are also on display. These too capture the beauty of places such as Chirayinkeezhu, where often it gets obscured by filth. He says he is constantly experimenting.
The use of various colours to depict water in his painting of children on a beach come from years of experience, he says.
Director of the Kerala Chitrakala Parishad, he has also been conducting painting camps for Soorya for years.
A national basketball player, Mr. Rajan has been drawing since he was a child. On spotting his talent, his father used to take him to various exhibitions. Even when he was pursuing sports, he kept alive the connection with art. Though he never learnt painting formally, he learnt from taking part in various camps conducted by the Lalithakala Akademi and from interactions with artistes having different styles.
On of the most memorable moments in his life has been the portrait he presented to the former President A.P.J. Abdul Kalam when he came to ISRO. "He was not President then. He then wrote me a letter asking me to draw Veli and ISRO together. I drew that and presented it to him when he visited ISRO after becoming President. He then wrote me an appreciation letter for the work," he says.
He recently drew a 6 ft portrait of Vikram Sarabhai that has been displayed at ISRO.
Mr. Rajan mostly paints landscape, his travels inspiring him to paint nature in all its glory. Contemporary issues such as problems faced by children also find expression in his works. "The challenge in such a work is to present it in such a way that viewers understand it, even if it is abstract," he says.
source: http://www.thehindu.com / The Hindu / Home> News> Cities> Thiruvananthapuram / by R.K. Roshni / Thiruvananthapuram – November 17th, 2017