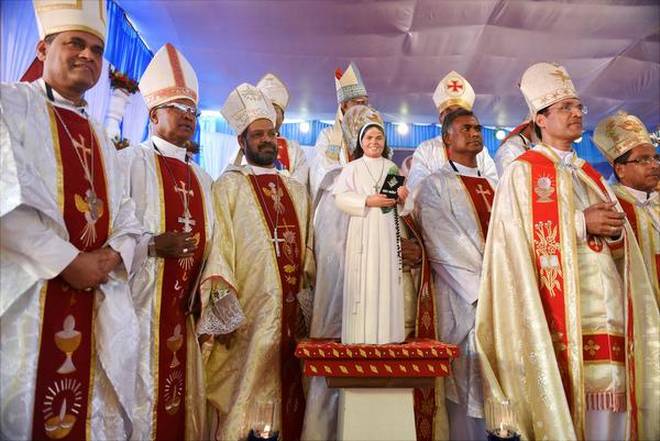 She was stabbed to death in Madhya Pradesh in 1995
Kerala-born nun Rani Maria Vattalil, who was stabbed to death in Madhya Pradesh in 1995, was declared Blessed, a sacred title in the Roman Catholic Church order, on Saturday.
Vatican's head of the Department for Cause of Saints Cardinal Angelo Amato declared the nun, popularly known as Sister Rani, Blessed, a stage below sainthood. Cardinal Amato read out the Apostolic (Pope's) letter declaring her Blessed in Latin at a Holy Mass at St. Paul Higher Secondary School's ground at Indore. The nun's killer also attended the ceremony.
Cardinal George Alencherry read out the letter of Pope Francis in English, while Cardinal Telesphore Toppo did so in Hindi.
Selmy, sister of the slain nun, said she was "overwhelmed" by the declaration. "The Blessed title is considered a prelude to sainthood as was the case with Mother Teresa," Public Relations Officer of Madhya Pradesh Catholic Church Fr. Maria Stephen said. But for sainthood, a miracle is required, he said.
All the four cardinals of India, Mar Baselios Cleemis (president of the Catholic Bishops Conference of India), Mar George Alencherry (of the Syro-Malabar Church), Oswald Gracias (Archdiocese of Bombay) and Telephore Toppo (Archdiocese of Ranchi), attended the ceremony.
Sister Rani, then 41, was stabbed about 50 times on board a bus in Madhya Pradesh's Dewas district on February 25, 1995, Fr. Stephen said. She was a member of the Syro-Malabar Franciscan Clarist congregation.
Her attacker Samunder Singh was hired to kill the nun as a few landlords in Indore were upset with her work for the uplift of landless people, he said. Singh was sentenced to life in prison. His sentence was commuted because of his good conduct in prison, Fr. Stephen said. He was pardoned by Sister Rani's family. At the ceremony, Singh recalled his brutal act. "Then, I was in the grip of evil spirits. My life has changed," he said.
The then Indore Bishop George Anathil initiated the process for Sister Rani's canonisation process of the Blessed in 2001. Two months ago, the Vatican cleared the canonisation process to promulgate the 'Decree of the Blessed' on Sister Rani.
Sister Rani was born to Paili and Elisha on January 29, 1954 at Pulluvazhi in Kerala.   She took her first vows in 1974 and was then assigned to Bijnor for mission Apostolate. After serving in Bijnor, she was transferred to Satna and later in 1992 to Udainagar, the MP Catholic Church said. She was a champion for the poor, it said.
In Madhya Pradesh, the nun organised people exploited by moneylenders. She was threatened several times, but she refused to be cowed down.
source: http://www.thehindu.com / The Hindu / Home> News> States > Kerala / PTI / Bhopal-Indore, November 04th, 2017