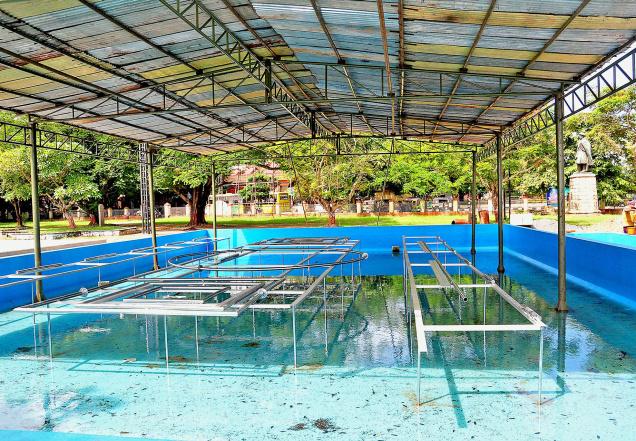 Mayor cries unauthorised construction
As the Greater Cochin Development Authority (GCDA) is all set to inaugurate its laser show project at Rajendra Maidan, the Kochi Corporation has termed it an unauthorised construction.
N. Venugopal, GCDA chairman, said that the project would be inaugurated in the last week of August.
At the same time, Kochi Mayor Tony Chammany said that the Kochi Corporation has not issued permission for setting up the Laser Park at Rajendra Maidan.
For any project to be approved by the Kochi Corporation, the project proponent should submit the documents pertaining to the ownership of the land along with the project details. In this case, the GCDA has not produced any documents to prove the ownership of the land, he said. The Authority has not obtained the permission from the Kochi Corporation, he asserted.
At the same time, Mr. Venugopal maintained that the Authority had submitted the documents pertaining to the ownership of the land. The Government had assigned the land to the Authority earlier. The Authority proceeded with the work after the expiry of the mandatory time for clearing the application. The municipal laws say that one can proceed with the work if the local body fails to respond within a specific time, Mr. Venugopal said.
An inspection by the Town Planning Standing Committee of the Kochi Corporation had earlier revealed that the Authority was proceeding without the mandatory permission from the local body. Hence, it was a case of unauthorised construction, said a member of the Committee. Meanwhile, the CPI (M) leadership in the Corporation council said that it will fight any move to usurp the public space, especially Rajendra Maidan.
K.N. Sunilkumar, the Parliamentary Party secretary of the CPI (M), said that the party was for protecting the public spaces in the city. The Kochi Mayor had earlier assured the council that all documents pertaining to the project will be placed before the council. Mr. Venugopal maintained that the free access to the site would not be curbed and the laser show will be held only after 8 p.m., the closing time of the park.
source: http://www.thehindu.com / The Hindu / Home> News>  Cities> Kochi / by  K. S. Sudhi / Kochi – July 11th, 2014