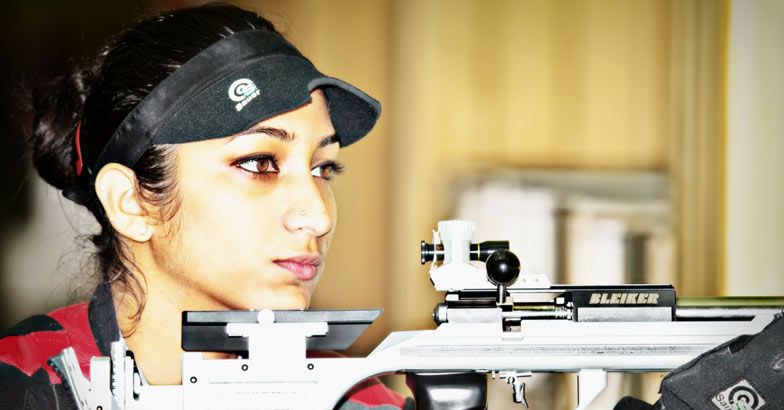 India produces very few top class sportspersons in Olympic discipline and one of the main reasons for it is the lack of a sports culture. There have been exceptions and shooting is one event in which the nation has come up with splendid achievements on the global stage. As the Commonwealth Games competition gets under way in Glasgow on Thursday, the shooters are expected to do the country proud yet again, though the number of gold medals on offer have been drastically reduced to 17 from 36 in the last edition held at New Delhi. Elizabeth Susan Koshy is one of the bright hopes for India in the quadrennial extravaganza. The 19-year-old girl from Thodupuzha speaks to Manorama Online from Glasgow about her career and chances at the Games.
Elizabeth's has been a remarkable journey in which she has been lucky to have received the support of her parents, proper guidance and more importantly taste success at a young age.
"My parents (planter Koshy Abraham and interior designer Ani) have been very supportive. I took up the sport at the age of 12 after witnessing a competition in Thodupuzha and initially I didn't have a coach. Later on Sunny sir (Prof Sunny Thomas, former national coach) was of great help and he has been a mentor. All my equipment are imported and my parents are never reluctant if I am interested in something sincerely," said Elizabeth.
Shooting is one sport which requires unwavering concentration and mental toughness. Elizabeth is someone who relishes pressure and is not overawed by the occasion. "I don't feel any pressure just because I am one of the youngest members in the national team. I have been part of the senior squad and I came up trumps in the last Nationals in a field which included seven experienced shooters in the final (Elizabeth bagged the 50 m rifle 3-position gold at Tughlakabad in 2013 and Olympian Anjali Bhagwat was one of her competitors.) That was a big boost to me."
Elizabeth is confident that the shooting contingent will come up with a good performance in Glasgow. "My competition is slated for Tuesday and I will put my best foot forward. I am confident that the team will put in a strong performance in the Games."
Elizabeth, a final year BA Economics student of St Teresa's College, Ernakulam, is quick to acknowledge the support of her teachers and friends. "Most of the time I will be away training in New Delhi or Pune. In addition there will be tournaments as well. But my teachers and friends are of great help."
Age is one her side and with more exposure, Elizabeth can only get better in her pursuit of excellence.
source: http://www.beta.english.manoramaonline.com / ManoramaOnline / Home> Sports> Other Sports / by Paul Abraham K / Thursday – July 24th, 2014